Amla is a plant that grows in India and has been used for centuries to help reduce the symptoms of cancer, diabetes, arthritis, asthma…
"Amla" is a type of fruit that has been used in Ayurvedic medicine for centuries. It is known to have anti-inflammatory, antioxidant and antibacterial properties. The benefits of amla for skin are many.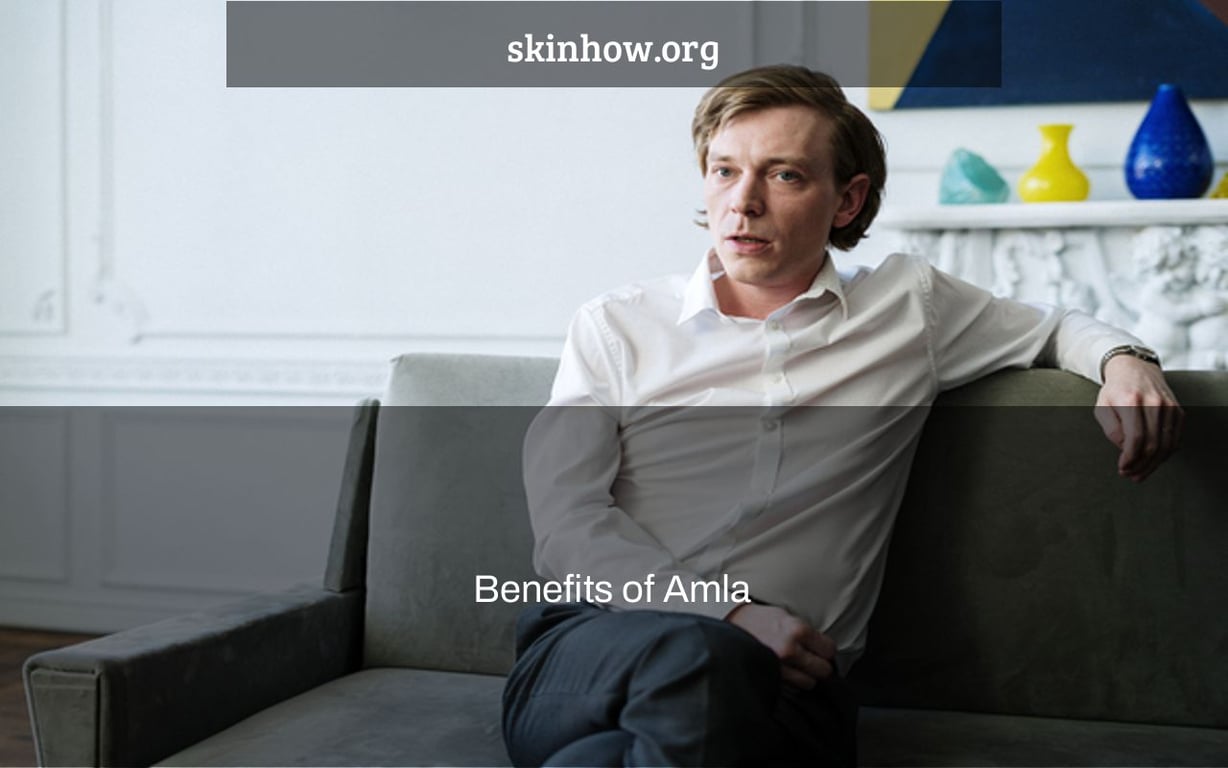 Amla: A Skin and Hair Care Wonder Berry
Amla, also known as Indian gooseberry, is a green fruit with a flavor profile that includes sweet, sour, bitter, pungent, and astringent notes. The amla tree, which is native to Southeast Asia, is well-known for its medicinal benefits. In Ayurveda, the Indian traditional system of medicine, it is regarded the most significant medicinal plant.
It was the first tree to emerge on Earth, according to Hindu mythology. When God Brahma, the creator of the cosmos, was meditating, it is stated that the tears that spilled from his eyes and dropped on the ground sprouted into an amla tree. Various components of the amla plant are used to prevent a variety of ailments, but the amla fruit is the most essential. Let's discover more about amla's skin, hair, and body advantages, as well as how to utilize it properly.
---
THE BENEFITS OF AMLA FOR THE SKIN, HAIR, AND BODY 
It is rich in antioxidants Research shows that ascorbic acid, or Vitamin C, is the most abundant antioxidant found in amla juice. After Barbados cherries, amla is the second richest natural source of vitamin C in the world. Amla is also rich in Vitamin E which supports cellular regeneration and repair. Its phytochemical composition of gallic acid, ellagic acid and catechins is known to protect our body against oxidative stress.

They also protect our skin and hair from the effects of the environment.

It is anti-inflammatory Research indicates that phenolic compounds called tannins present in amla extract protect our bodies against allergens and also calm down existing inflammation. Regular consumption of amla fruit accelerates wound healing and tissue repair. Ayurvedic preparations of amla oil are also known to soothe scalp itchiness and irritation.
It has anti-ageing benefits As we age, our skin experiences loss of collagen and elasticity which leads to wrinkles, fine lines and sagging. Research suggests that extracts of the amla fruit are successful in promoting collagen synthesis in the body and boosting collagen metabolism in the skin. This property is helpful in achieving plump and youthful skin and preventing early signs of ageing. The use of amla oil and shampoos containing amla extract is also known to prevent premature greying of hair.
It reduces sun damage Exposure to ultraviolet radiation is one of the biggest contributors to ageing, irreversible cell damage, inflammation and melanoma.

The juice of the amla fruit has a kerato protective effect on skin keratinocytes exposed to UV radiation, according to studies. It suggests that the phyto antioxidants in amla juice may prevent UV-induced oxidative damage by scavenging free radical activity in skin cells.

It boosts immunity Amla has a high content of polyphenols such as tannins and gallic acid that improve cellular immunity. Due to its rich antioxidant composition, amla is extensively used in Ayurvedic medicines such as Chyavanprash and Triphala Churna to prevent respiratory ailments and memory loss, and improve gut function respectively.
It prevents liver diseases According to research, amla provides hepatoprotective properties to the body. This means that amla has the ability to prevent damage to the liver, reduce its viral load, improve its functioning and restore it to a healthier state.
It stabilises blood sugar A study done with healthy participants and type 2 diabetic patients in 2011 concluded that regular consumption of powdered amla fruit can stabilise fasting and post-eating blood glucose levels in all categories of people.
It improves eyesight Research indicates that in addition to providing numerous health benefits, and anti-inflammatory, antioxidant and anti-ageing effects, amla extract also improves mitochondrial health of eye cells, thereby preventing age-related deterioration of vision and improving eye health.
It boosts hair growth According to a study, amla oil is used to successfully strengthen and promote hair growth in India and Thailand. The dried fruit cleanses and stimulates the scalp, and is actively used in several hair care preparations. Amla oil is also known to prevent hair loss, and improve hair pigmentation.
It promotes heart health Research indicates that while amla does not reverse the impact of cardiovascular diseases in our body, it does influence various cardiovascular risk-factors and symptoms, thereby boosting heart health.
---
AMLA OIL FOR HAIR GROWTH (DIY)
10 grams dried and powdered amla, in a clean and dry glass bottle Pour 100 mL of Cold Pressed Sweet Almond Oil into the bottle. Allow the bottle to rest in sunlight for a month after firmly sealing the lid.
Once every few days, give the bottle a good shake. The sun will slowly warm the oil, allowing the amla nutrients to migrate to the almond oil.
Strain the oil into a clean jar or container after a month. Massage your scalp once a week with it.
Note – Ayurveda uses a traditional method of making amla oil. Both these methods are different, but both yield a nourishing hair oil. Please patch the prepared blend on a small portion of your inner arm before applying it directly to your hair and scalp. In case of any signs of irritation, rinse the affected area immediately with soap and water.
---
JUICY CHEMISTRY HAIR PRODUCTS WITH AMLA OIL
Hibiscus, Onion and Bhringraj Organic Shampoo Bar Our natural shampoo bars are handmade with organic plant oils using the cold-process method of saponification. They cleanse the scalp gently, and leave your hair nourished.

Chemistry with a kick Onion juice and Hibiscus extract encourage hair development, Amla Oil, Black Tea extract, and Curry Leaf Essential Oil prevent premature greying, and German Chamomile and Cedarwood Essential Oils ease scalp irritation in the Hibiscus, Onion, and Bhringraj Organic Shampoo Bar.

Hibiscus, Amla and Bhringaraj Hair Oil It is a nourishing hair oil formulated with Amla, Brahmi, and Hibiscus to soothe your scalp, restore your hair's natural colour and soften your hair. It also contains Coconut Oil, Coconut Milk and Curry Leaf extract to moisturise your scalp and soothe inflammation.
Camellia, Amla and Apricot Leave-In Conditioner Our natural leave-in conditioner is a nourishing hair balm formulated with organic plant oils such as Camellia Seed, Jojoba, Argan and Amla Oils to moisturize dry hair, and Cedarwood and Petitgrain Essential Oils to control frizz and promote lustre.
---
QUESTIONS THAT ARE REGULARLY ASKED
Is the Juicy Chemistry Camellia, Amla and Apricot Leave-In Conditioner suitable for all hair types? Yes, it is suitable for all hair types. You only need a pea-size amount for the lengths of your hair.
How often should we wash our hair with Juicy Chemistry shampoo bars? While less cleansing may lead to scalp build-up, excess cleansing may cause dehydration. Hence, we recommend cleaning your scalp and hair 2 or 3 times a week, depending on your lifestyle and environment.
How to make the most of our oiling experience? Let the oil absorb into your hair for a couple of hours before shampoo, or leave it in your hair overnight for maximum benefits. Wrap a warm towel on your head after oiling to create a steam treatment for your hair and scalp.
---
QUALIFICATIONS –
https://pubmed.ncbi.nlm.nih.gov/21317655/ https://pubmed.ncbi.nlm.nih.gov/18588964/ https://pubmed.ncbi.nlm.nih.gov/21495900/ https://pubmed.ncbi.nlm.nih.gov/23978895/ https://www.ncbi.nlm.nih.gov/pmc/articles/PMC8146754/ https://www.ncbi.nlm.nih.gov/pmc/articles/PMC4648887/ https://www.ncbi.nlm.nih.gov/pmc/articles/PMC6571565/ https://www.ncbi.nlm.nih.gov/pmc/articles/PMC5567597/ https://pubmed.ncbi.nlm.nih.gov/23105791/ https://pubmed.ncbi.nlm.nih.gov/30386531/ https://www.ncbi.nlm.nih.gov/pmc/articles/PMC5429933/ https://pubmed.ncbi.nlm.nih.gov/30792375/
Amla is a fruit that has been used in Ayurvedic medicine for thousands of years. It is believed to have many benefits, including improving eyesight and digestion. Reference: benefits of amla murabba.
Related Tags
benefits of amla for hair
benefits of amla powder
gooseberry benefits
benefits of amla juice
benefits of eating amla in empty stomach