Aloe Vera is an herbal medicine used to treat a variety of ailments ranging from burns and boils, to skin conditions such as psoriasis. It has been sold in the U.S since 1901, but it's now facing increasing pressure from big pharma companies that are looking into patenting their own versions of aloe-based products.
The aloe vera plant is a succulent plant that is commonly used in the form of juice. It contains vitamins, minerals and enzymes that help to maintain health.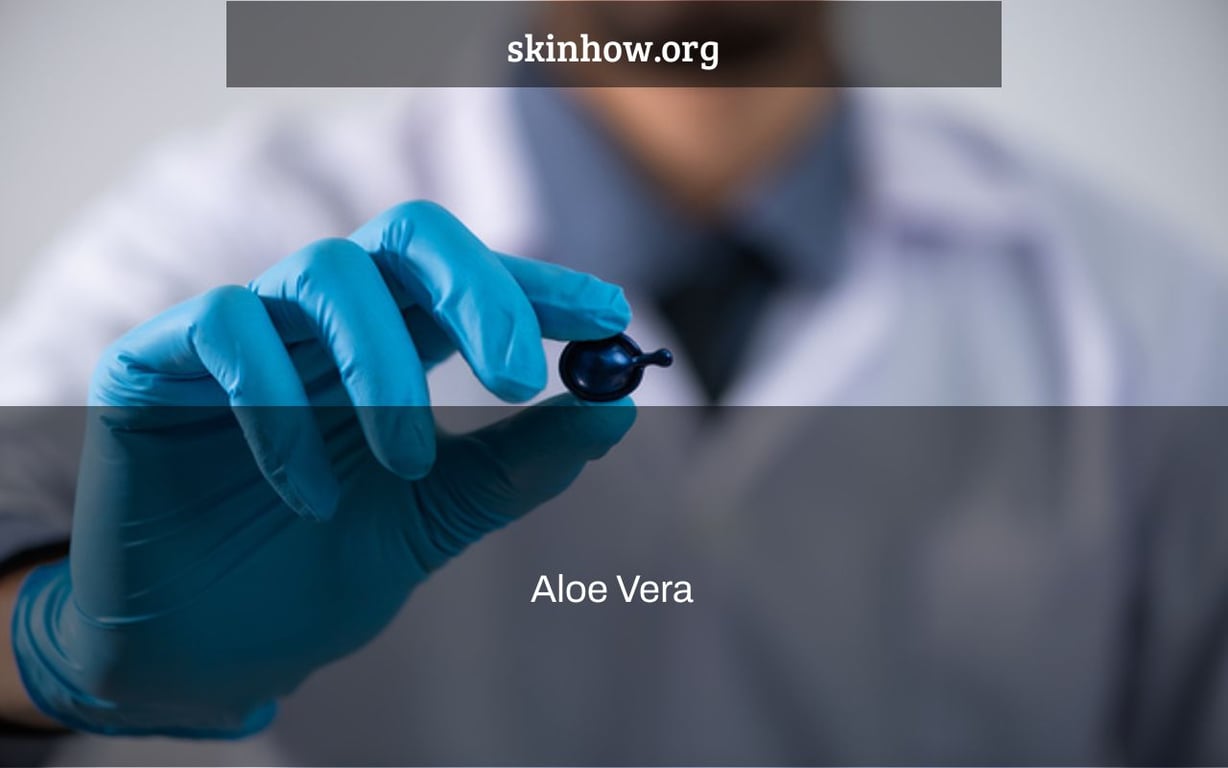 Aloe vera is a succulent plant that may be found in many different places of the globe. The inner transparent gel of the aloe vera plant, which includes water and other nutrients, the yellow bitter sap, which contains glycosides, and the outside protective rind, which contains carbohydrates and protein, are all split into three components.
Since the ancient Egyptian period, aloe vera has been renowned for its medicinal and wound-healing capabilities. Cleopatra, the Egyptian queen, utilized it in her beauty routines on a daily basis. It was employed by Alexander the Great to cure troops who had been injured in battle. It was also dubbed "the herb of immortality" by Pharaohs.
But it wasn't until the mid-1930s that aloe vera was first utilized in dermatology to treat a variety of skin issues.
---
ALOE VERA HAS MANY BENEFITS FOR SKIN CARE
It is moisturising The flesh of the aloe vera leaf is made up of 99% water. It hydrates deeply, and the gelatinous compounds act as natural humectants for our skin.
It reduces pimples The anti-bacterial, anti-fungal, anti-viral and antiseptic properties provided by compounds such as lupeol, cinnamonic acid, phenols and sulphur found in aloe vera leaves reduce pimples. Aloe vera also contains natural salicylic acid which is clinically proven to reduce skin lesions like papules, blackheads, whiteheads and other such comedones. It is also known to prevent the formation of scar tissue after the removal of acne.
It is rich in antioxidants Antioxidants such as Vitamin A, Vitamin C, Vitamin B12, folic acid, zinc and metallothionein increase antioxidant activity in the skin by scavenging free radicals and protecting our skin from environmental pollutants and oxidative stress.
It is anti-inflammatory Research indicates that fatty acids, enzymes, sugars and hormones such as cholesterol, campesterol, beta-sisosterol, lupeol, bradykinase, c-glucosyl chromone, auxins and gibberellins found in aloe vera provide anti-inflammatory benefits to the skin when applied topically, and also promote wound healing.
It reduces sun damage According to a study, on careful application of aloe vera, our skin generates an antioxidant protein called metallothionein which reduces the effects of sun exposure, UV damage, and gamma radiation on our skin.
It is a natural coolant Aloe vera provides an instant cooling sensation, rejuvenation and freshness to our skin. It is a known household remedy for soothing small cuts and burns. According to a study, topical application of aloe vera gel also accelerates the healing of burn wounds.
It reduces itchiness According to a study, formulations containing aloe vera are effective in reducing dermatitis, an itchy skin condition that leads to rashes. The high polysaccharide content of aloe vera gel hydrates skin and restores its protective barrier. It is also used to treat skin problems like eczema and psoriasis.
It improves complexion Vitamin A, Vitamin C and Vitamin E found in aloe vera plants repair photodamage, reduce the appearance of hyperpigmentation, promote even skin tone and provide a glowing complexion.
It has anti-ageing benefits Research indicates that topical application and oral consumption of aloe vera stimulates fibroblast in our skin which synthesises collagen and produces elastin fibres to make our skin more elastic and less wrinkled. The same research also concludes that aloe vera gel boosts the production of hyaluronic acid in the body which keeps skin hydrated and plump.
It supports pore health 3% of aloe vera gel contains natural saponins. These are soapy substances that keep skin clean while preventing clogging of pores and congestion. The amino acids in aloe vera leaves also act as natural astringents which contract skin cells and improve the appearance of pores.
---
ALOE VERA'S OTHER BENEFITS
---
HOW DO I CARE FOR MY SKIN WITH ALOE VERA?
Aloe vera for skin nourishment Freshly squeezed aloe vera gel can be applied on skin and scalp for promoting hydration and nourishment, and preventing dehydration and flakiness.
Aloe vera for clear skin A paste made with fresh aloe vera gel or aloe vera water, multani mitti, also known as fuller earth clay, and a pinch of organic turmeric powder, can be applied as a weekly face mask to reduce pimples and promote skin clarity.
Aloe vera for cooling skin Aloe vera toner can be sprayed on the skin to reduce damage caused by sun exposure. Fresh aloe vera gel can be applied to the skin in cases of minor kitchen burns for a cooling effect.
Aloe vera for skin toning A toner made with steam-distilled aloe vera hydrosol can be applied on the face and neck with a cotton round to provide astringent benefits to the skin.
Aloe vera for soothing bug bites Aloe vera gel can be applied to soothe bug bites due to its anti-inflammatory, antiseptic and wound healing properties.

Note: Before using new substances or products to your skin or scalp, patch test them on your inner arm to see if they cause irritation or redness. If irritation occurs, stop using the product.
---
ALOE VERA PRODUCTS ARE JUICY CHEMISTRY PRODUCTS
Aloe Vera and Baobab Face Mask It is a soothing and nourishing blend of organic Aloe Vera which hydrates dry skin and provides anti-inflammatory properties to sensitive skin, and organic Baobab fruit powder which is rich in Vitamin C to support skin repair and promote an even toned complexion.
Aloe Vera Water Toner Juicy Chemistry toners are 100% natural and cosmos certified organic. They are prepared by the method of steam distillation, and are packed in dark blue glass bottles to ensure that the heat sensitive compounds of the plant matter remain viable and effective. Our Aloe Vera Toner cools and repairs sun-damaged skin, replenishes moisture, and provides anti-inflammatory support to sensitive skin.
Australian Tea Tree and Basil Water Toner It is a blend of basil, tea tree, neem, rosemary, lavender and aloe vera hydrosols for providing anti-bacterial properties to acne prone-skin, soothe skin-inflammation, reduce itchiness and stimulate blood circulation.
Organic Cleansing Baby Soap Our natural, handmade and organic soaps are made with nourishing plant butters and fresh plant extracts by using the cold-process method of saponification. They cleanse gently and leave your skin soft and moisturised. Juicy Chemistry organic cleansing baby soap is formulated especially for babies, but it can be used by anyone with sensitive skin. Aloe Hydrosol and Calendula extract soothe dry and sensitive areas of your skin, and saponified Olive Oil and Shea Butter provide a gentle cleanse.
---
QUESTIONS THAT ARE REGULARLY ASKED
Who can use aloe vera for skin care? Anyone who does not have sensitivity to aloe vera can use it on their skin. However, we do recommend patch testing new products on your inner arm before applying them directly on your face.
How long does aloe vera take to show results? Our skin experiences months of wear and tear before it starts showing signs for concern. Hence, time taken by any natural remedy to show visible results depends on how deep the concern goes into your skin. When it comes to using natural ingredients for skin care, consistency and patience are key.
---
QUALIFICATIONS –
https://www.ncbi.nlm.nih.gov/pmc/articles/PMC2763764/ https://www.ncbi.nlm.nih.gov/pmc/articles/PMC4740760/ https://www.ncbi.nlm.nih.gov/pmc/articles/PMC6330525/ https://www.ncbi.nlm.nih.gov/pmc/articles/PMC3346674/
Aloe Vera is a popular plant that has many benefits. It can be used in juice, as a toner, or even as an ingredient in food. Reference: aloe vera juice.
Related Tags
aloe vera leaf
aloe vera plant benefits
benefits of aloe vera drink
aloe vera gel benefits
aloe vera gel