With long, hot summers and a humid climate that can wreak havoc on your skin, skincare becomes a daily necessity. These 30 best skincare tips can help anyone in maintaining a healthy and glowing skin in humid conditions too. The best way to preserve the health of your skin is through prevention – dermatologist recommend using SPF protection before going outside as well as exfoliating regularly for smoother, clearer looking skin. In this article you will find best skincare tips as suggested by various prominent dermatologists.
The " tips for glowing skin" is a list of best skincare suggestions according to dermatologists. The article also includes the "Must Haves" for having a healthy and radiant skin.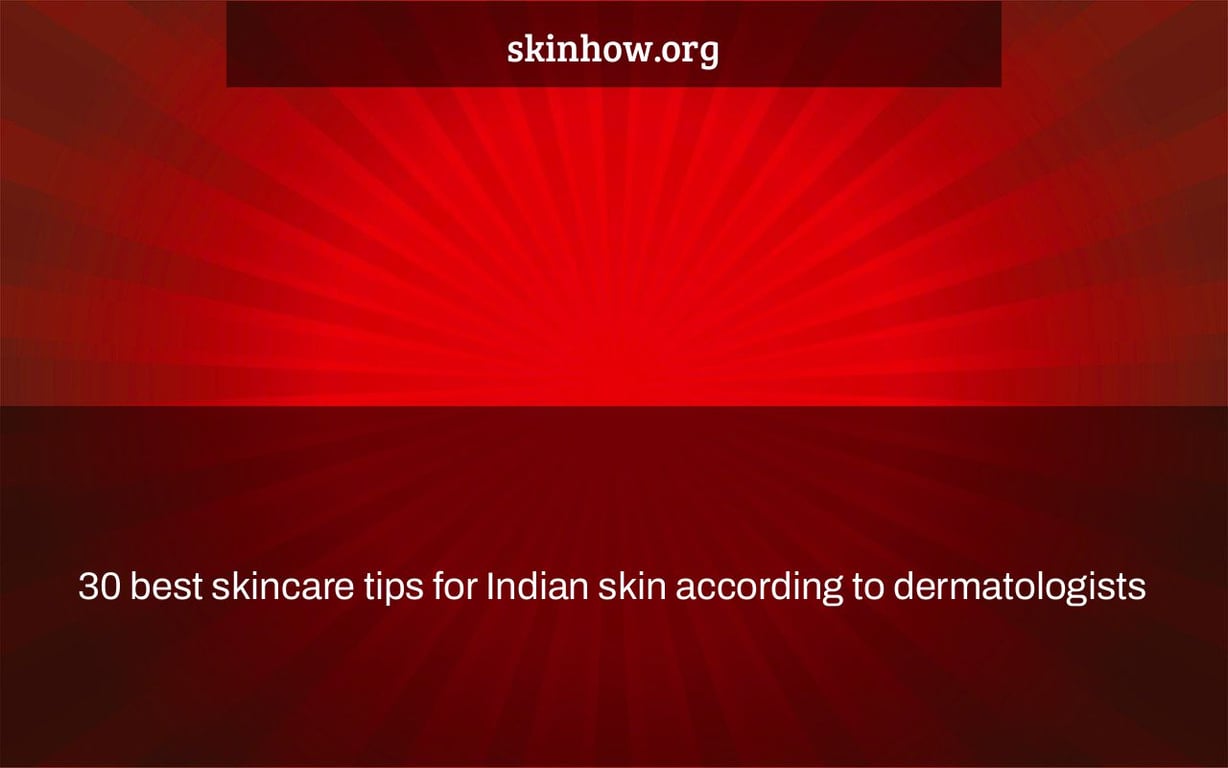 According to experts from throughout India, these are the greatest skincare techniques for maintaining a healthy and flawless skin.
Mumbai suffers from oppressive humidity, Bengaluru from lovely nights, and Delhi and Chennai from scorching summers. In terms of skincare, this implies various regimens for individuals in different cities, which are then altered as the environment changes.
Even though in present scenario, most individuals remain at home or work from home, the situation hasn't altered. Acne, eczema, rashes, and even UV damage have all flared up in some people. So, to keep our self-care regimen running smoothly, we contacted some of our favorite dermatologists throughout the nation for their finest skincare advice for the Indian skin. 
30 Best Skincare Tips:-
These general skincare tips from dermatologists can benefit just about everyone. These skincare tips can be adjusted or modified according to various skin needs. The skincare tips recommended by dermatologists are more safer bet than trying anything random.
1. Choose a face cleanser that includes salicylic acid if you have oily skin (BHA). Also, apply a mild moisturizer to your wet face to seal in the moisture.  
2. Is there a decent method to bring in the light? For a dewier and more moisturized appearance, blend some Vitamin C and Vitamin E serum into your foundation without making it seem greasy.  
3. Because of the humidity, use less amount of moisturizer each application during the monsoons. 
4. To prevent fungal infections, get your nails manicured and pedicured at home on a regular basis. Humidity may cause your nails to become yellow and brittle.  
5. Of the various Indian skin care methods available, I favor the exfoliation approach that involves using a half-cut tomato immersed in coffee powder as a face scrub. Leave it for approximately 15 minutes before rinsing it. 
6. Combine gram flour (besan) with a sprinkle of turmeric and curd/milk for beautiful skin. If you have dry skin, mix with a little honey. Apply the mixture and let it sit for 10 minutes before washing it off.
7. To minimize pores, freeze your face for around 2-3 minutes every day for a basic daily shine.
8. Even if it's overcast and rainy, sunscreen is a must, even if you're indoors. If you have oily acne-prone skin, go for mattifying gel-based ones.
9. At night, use mild moisturizers to allow your skin to breathe and be nourished without becoming greasy. 
10. Use hard scrubbing as little as possible. Get a skin analysis and choose a mix of Alpha Hydroxy Acids, Beta Hydroxy Acids, and Retinols for exfoliation (do not self-prescribe).
11. In hot and humid areas, use an excellent cleanser and double-cleanse at night — an oil or balm cleanser first, then any mild soap-free / foamy cleanser for the second step. 
12. Use an exfoliator next, such as a toner, serum, or peel pad, to remove dead skin cells so that everything you use after it is more effective. Exfoliants also help to eliminate dead skin cells and increase skin cell turnover.
13. In the morning, use an antioxidant serum like Vitamin C, and at night, use an AHA/BHA or a Retinol serum (ideally, consult with a derma before and avoid very high percentages of these exfoliating agents). Retinol should only be used once or twice a week. Treat your main issues and learn about AHAs/BHAs and the several kinds of actives that are best for your skin type. In hot and humid areas, hydration is essential, so invest in a moisturizing serum. 
14. After applying the hydrating serum, use a mild moisturizer. Skip the moisturizer if your skin feels sufficiently hydrated after applying the hydrating serum. 
15. Because heat may aggravate acne, exfoliate once or twice a week and wash twice a day with a salicylic acid-based cleanser. Always apply sunscreen to prevent clogging pores and causing outbreaks. A regular application of sunscreen is a crucial step among the skincare tips.
16. Invest in a decent antioxidant serum, such as one containing Vitamin C and E, to help protect your skin from environmental damage, boost collagen synthesis, and decrease inflammation and redness. Always do an allergy test before incorporating a new skin care product into your routine. 
17. It's critical to switch up your skincare this season. To minimize oil blockage and pore obstruction, use a face cleanser containing salicylic acid.
18. Depending on how oily your skin is, switch to a gel or liquid moisturizer or skip it altogether.
19. Always have biodegradable organic face wipes and sunscreen with you. If you start to sweat, wipe your face and reapply your sunscreen.
20. Avoid wearing makeup at this time since it will clog your pores. 
21. Use light fabric masks like cotton and wash them every day. If you start to sweat, replace your mask, so have a few extras with you.
22. Look for astringent pads containing a combination of AHAs and BHAs, such as FCL Penta Peel Pads, that effectively clean you out. 
23. Infection or irritation of the hair follicles, the small pockets in the skin where each hair develops, causes Folliculitis. Bacterial infections cause it, and excessive perspiration causes it in the summer.
What can be done about it? Clean the area twice a day with warm water and soap. Cleanse the area with a clean cloth and apply a warm compress. Boil 2-3 cups of water for the compress, then cool to room temperature. A spoonful of salt should be added and stirred in. Soak a 100% cotton cloth in the salt solution, wring out the excess water, and apply to the skin. You may do this multiple times during the day. Alternatively, you may use a Hydrogen Peroxide spray to treat bacterial and fungal diseases.
24. Back acne, which affects both men and women during the summer, is caused by increased perspiration and oil production. It might also happen if your garments are too tight. Honey has antimicrobial properties, while turmeric has antibacterial and anti-inflammatory properties. It works well as a mask and exfoliant when combined with a little gram flour. You may also use oats instead of gram flour, which is more skin-friendly.
25. When it comes to tanning, the easiest method to deal with the issue is to avoid it altogether. A broad-spectrum sunscreen is required. Use yoghurt or milk on your skin to lighten it since they both contain lactic acid. Apply a cotton cloth soaked in milk or yoghurt to the afflicted region. Leave it for a few minutes before rinsing it off. Green tea includes EGCG (an antioxidant ingredient that helps decrease tanning pigmentation), therefore sprinkling green tea water on your body may also help you get rid of a tan. 
26. While the humidity and heat may create a variety of concerns, the most common ones in India are acne, hyperpigmentation, and open pores. So, if you have acne, a DIY mask prepared with Multani Mitti, smashed neem leaves, grated turmeric, aloe vera, and lemon juice works miracles. Apply this to your face and let it on for ten minutes before washing it off. You may also use it as a spot treatment, leaving it on for the night before washing it off. 
27. Sun exposure exacerbates hyperpigmentation of the skin, which appears as dark areas or blotches over the face. At night, cleanse your face with cold milk. Milk contains lactic acid, which serves as a gentle exfoliator. Curd, gooseberry juice, and tomato juice may also be used to produce a mask. Apply the mixture to your skin and let it sit for 15 minutes before washing it off. For optimal results, use this mask on alternate days.
Summer is also a good time to up your intake of antioxidants like lycopene (watermelon, grapefruit, papaya), alpha-lipoic acid (spinach, broccoli, yam, beetroot), Ubiquinone (fatty fish, offal, lentils, cauliflower, soybeans), and curcumin (turmeric, turmeric, turmeric, turmeric, turmeric, turmeric, turmeric, turmeric, turmeric, turmeric, turmeric, turmeric, turmeric, turmeric, turmeric, turmeric (turmeric). They improve the skin's ability to defend itself from the sun.
28. Perspiration causes pores on the skin to appear bigger in the heat. On the open pore regions, apply a paste made from drumstick leaves, gooseberry, carrot, and ginger. Before washing it off, let it on for a few minutes. The skin is tightened by the astringent action. I also recommend using a retinol-based lotion on a regular basis.
29. Whether it's skincare, any aesthetic procedure, or any skincare product that you would want to use, I've always been a staunch believer in the notion of 'less is more.' The primary role of our skin is to serve as a protective barrier. At this time, overloading the skin with cosmetics or applying them excessively may break the skin's barrier.
30. Before going to bed, wash your face with a light cleanser. Look for cleaning solutions that have mild exfoliants to aid in the removal of blackheads. Cleansers with salicylic, alpha hydroxy, or lactic acid help to dissolve debris and oil, unclogging pores. Cleansing a one of most important among other skincare tips as removal of dirt and grim leads the way to healthy skin!
These are the 30 best skincare tips which are jotted down after discussions with dermatologists. So, lets get started on our own personal journey of skincare. These skincare tips can help in maintaining the over all health of the skin as well in achieving the flawless look.
Watch This Video –
The "anti ageing skin care products" is a blog post that has been written about the best anti ageing products for skin. These are helpful in getting the ageless look and maybe reverse the effects of aging.
Related Tags
dermatologist recommended skin care routine for 30s
dermatologist skin care tips
best skin care routine for 30s
dermatologist skin care tips
best skin care routine for 40s